FutureMakers
Musica Viva's FutureMakers discovers and enables Australia's musical leaders of tomorrow. I am rapt to have been invited to lead this bold initiative as Artistic Director.
FutureMakers builds on the work undertaken in the tertiary sector by providing early-career artists with diverse mentoring and extraordinary opportunities. Over a two year period, we work very deeply with a small number of musicians who have a proven track record and high potential.  Through concrete skill development opportunities, we develop leaders who are persuasive and business savvy, as well as artistically brilliant. In a bespoke program, individually tailored for each participant, we partner with best-practice individuals and companies to provide a remarkably diverse choice of experiences, contacts, opportunities and challenges.
Our graduates leave us equipped with an awareness of their unique brand, entrepreneurial skills, the maturity and confidence to be able to advocate for their music in various situations. This enables them to make the choices that are right for them for their future, and gives them the foundation to build and maintain a thriving creative enterprise. They have an ongoing relationship with Musica Viva. They've created new, career-defining work, a business plan, and the beginnings of other projects, networks and financial strategies for the next phase of their career.
Classical music has undergone tectonic shifts over the last decades, and the only certainty for the future is further change. There is a great need and opportunity to invent new models for the creation and presentation of classical music. In today's world, it is no longer possible for a young musician to make a living, a career, or a meaningful life in music based on models of the past. The practice of institutional patronage – whether that be through an orchestra or through a university hosting an ensemble in residence – is diminishing, with fewer and fewer opportunities made available for emerging musicians. Successful musicians must be both extraordinary artists and talented entrepreneurs, creating their own opportunities and audiences.
Our current education systems are producing young musicians of excellent instrumental calibre, who are not equipped for making a career in music outside an orchestra. Their musical skills are not matched with administrative or strategic ability. FutureMakers provides a vital connecting point between young, super-talented musicians, business thinking, audiences, other artforms, and the creation of new work.
FutureMakers leverages Musica Viva's resources and assets to shape young artists, influence audiences and the broader environment. We are making a future where new work is generated, funded, experienced and talked about. FutureMakers provides a start-up lab: a safe place in which to do dangerously creative things, producing graduates who are brilliant, restless and curious. They will shape and inspire cultural life in the 21st century.
FutureMakers gives unparalleled career development opportunities, and a one-off chance to make new and exciting art.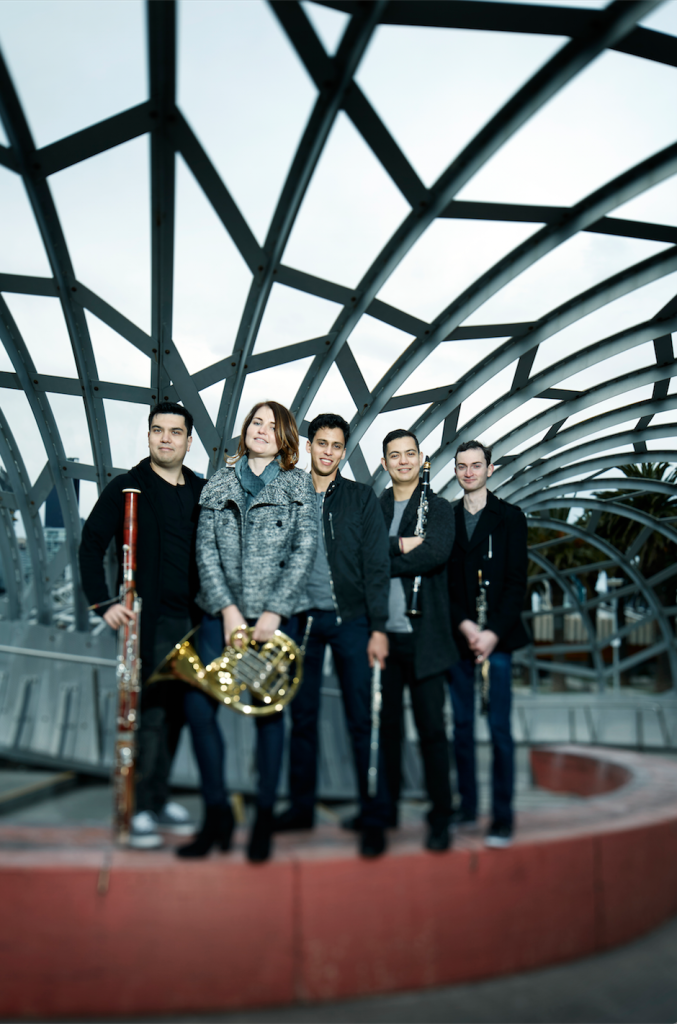 photo: Keith Saunders
Arcadia Winds are our first FutureMakers. Arcadia comprises Kiran Phatak (flute), David Reichelt (oboe), Lloyd Van't Hoff (clarinet), Rachel Shaw (French horn) and Matthew Kneale (bassoon).
Major funding for Musica Viva FutureMakers has been provided by the Berg Family Foundation. Additional support has been provided by Geoff Ainsworth AM & Johanna Featherstone, Tom Breen & Rachel Kohn, and Creative Partnerships Australia.
We're so grateful to these people, helping create FutureMakers with us.